5 Questions with Kalpataru Tree
I'm really looking forward to Kalpataru Tree's set at Chillography 202, so I asked him a few questions to get a bit of insight. He's certainly an act with a big future, and I'm happy that we're bringing him up to Seattle while we can still afford him. 😉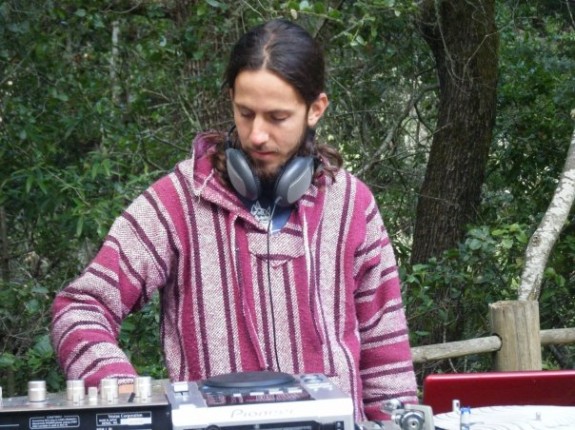 How do you describe your music to people who've never heard it before?
I usually start by comparing my music to a few electronica sub-genres, dub, downtempo, psy-chill, and then go on to say that it goes beyond these genres with experimentation in thick guitar layering, vocals, live bass, and psychoacoustic principles. With dubby basslines + dreamy, ambient sounds as a general model, my music often evolves into unexpected manifestations, for instance, sometimes I think my guitar riffs sound like the Cure or Sonic Youth or something – meanwhile there is still that psy-dub trippiness, so I would say my music is very unique in its organic/digital nature. I cant really escape the fact that it will always be techno, because its loop-based and arranged through a computer, but I take the sounds as far as I can in the organic direction, because I feel I can breathe more emotion + feeling into the music that way, and I'm reeeallly bored with music that is made soley with computers and synthesizers, unless its something really top-notch like Bluetech or Shulman or Ott or something.
Who and/or what influences your music the most?
My music is most influenced by the music that has influenced me. I have a long love relationship, that was at certain points an obsession, with music that is crafted with the intention of being a vehicle for consciousness. When I was a teenager, I was really into Sonic Youth for this reason – there was something about the dissonant chords + long feedback saturated jam sessions that would send my imagination flying. Sooner or later I discovered electronica – and then through my searching, came across some music that I had profound, life-changing experiences with. I started by getting all this music coming out of Germany and the UK – all this exquisite psychedelic chillout in the late 90's – Shpongle, OTT, Dub Trees, – and then I found out that Canada and the Interchill label was doing some really amazing stuff – and sooner or later I made it up to Canada, to the Invision festival on the Sunshine Coast – Shambhala, etc. All this time I was crafting my own unique sounds, and pretty soon I moved to San Francisco + attended the Globe institute where I simultaneously was exploring the mystical + psychoacoustic principles of sound and music, while honing, refining and learning new tricks in the studio. Aside from all of this – other influences are life experience, nature, love, emotion, the unlimited possibilities of the imagination, and a drive to create magic.
What instruments, equipment and software are at work in the studio? What about your live setup?
I've got a pretty nifty setup that im happy with right now. Of course, it constantly morphs + changes – but its basically a modified instrument case that contains a cheap-o 500 dollar gateway laptop, an emu 0404 usb soundcard, running Live, etc. -> my midi keyboard, bass guitar, guitar, didgeridoo, singing bowls, guest female vox, field recordings, etc. Whats really cool is that my studio is portable and is also my live setup! I travel a lot – so I think its so great that most places I land, I can set up my studio and make music. My live setup is the same little studio in a box, which I use to mix and re-tweak my song arsenal, and a lot of the time I take out the bass track and throw down a little live bass – and sometimes I am accompanied by female vocals. It is a desire of mine to eventually expand this even more to include drumming, a guitarist etc…. I did a set not too long ago where I had a friend on the handsonic and another friend throwing down guitar riffs, and I liked the feeling of all that stuff happening on stage. For Chillography 202 – I think its just going to be a live set of my latest tracks with some bass + keys n stuff as well, but ill probably be holding it down solo this time.
Beyond Chillography, what's next for you and your music?
Who can ever say whats next for anything? I can tell you what I want to happen: I want to share my music with the world in a financially sustainable way – record releases, live gigs, radio play, etc…Ive got a release coming out on Cyberset records next year – that should help. I've got other labels that are flirting with the idea of a release as well. I've got a ton of unreleased material! I basically want to make music + share music in environments conducive to what I do, and have it not come out of my pocket. In 2007 I went around everywhere, just traveling, sometimes I would get a couple hundred bucks – sometimes Zip…. After performing in all sorts of environments – from festivals, to trance parties, to one-night events at a club or something – I created a few standards for myself. I need to be on the flyer/lineup, I need to be financially compensated for my travel, and I need to be in an environment where people will actually what to listen to and hear what I have to offer. As for record releases – I'm trying to make that happen – so I can just pop out everywhere in the world, like little mushrooms, on radio, at parties, etc … What more could I want? I'm trying to make it happen – maybe I'm not the greatest Marketer/Promoter or something, but its been taking a while to get that ball rolling.
Where can people go to learn more about you and hear your tunes?
There's Myspace: (www.myspace.com/kalpatarutree). There's my website (www.kptree.com). You can buy a self-released album through either Addictech, or CD baby. Just Google "Kalpataru Tree" – you'll probably find everything you are looking for.
I look forward to playing at Chillography 202! See you there.